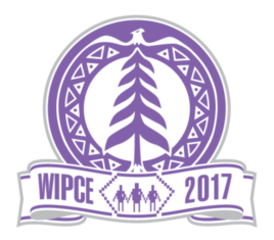 Official WIPCE2017 Merch
Get your WIPCE 2017 swag now at our online store
Vendors
Indigenous artisans & craft vendors from around the globe have been invited to participate in this year's WIPE 2017 Market Place. On Days 3 to 5 of the conference stop by the Market Place to find that 'something special' for a friend or loved one! Or treat yourself! Why not?! It's WIPCE 2017. 
In addition to the artisan booths & craft vendors, education booths will be showcasing their work, hosting info sessions, interacting and adding their uniqueness to the WIPCE 2017 Market Place. 
Some of these education booths will include DEYOHAHÁ:GE: THE INDIGENOUS KNOWLEDGE CENTRE. 
The Market Place will house the Elder's Lounge, Healer's Lounge, and the Youth Lounge.